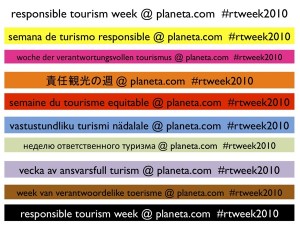 For the second year in a row, Planeta.com is proud to announce Responsible Tourism Week, revving up for action from May 17-21, 2010.
Created first in 2009 when the Belize Responsible Tourism Conference was cancelled due to the swine flu outbreak, RT Week, scheduled just a few weeks before World Environment Day, is "a free demonstration of Web 2.0 as a means of documenting the challenges of developing (and maintaining!) responsible tourism."
While it takes place online and uses the latest Web-based information-sharing tools as the medium of exchange – participants will use Delicious, Facebook, Flickr, Twitter, YouTube and Slideshare to document their practices – the news transmitted will always be about down-to-earth good tourism reported from around the world.
Continue reading this article on the whl.travel blog